LATEST NEWS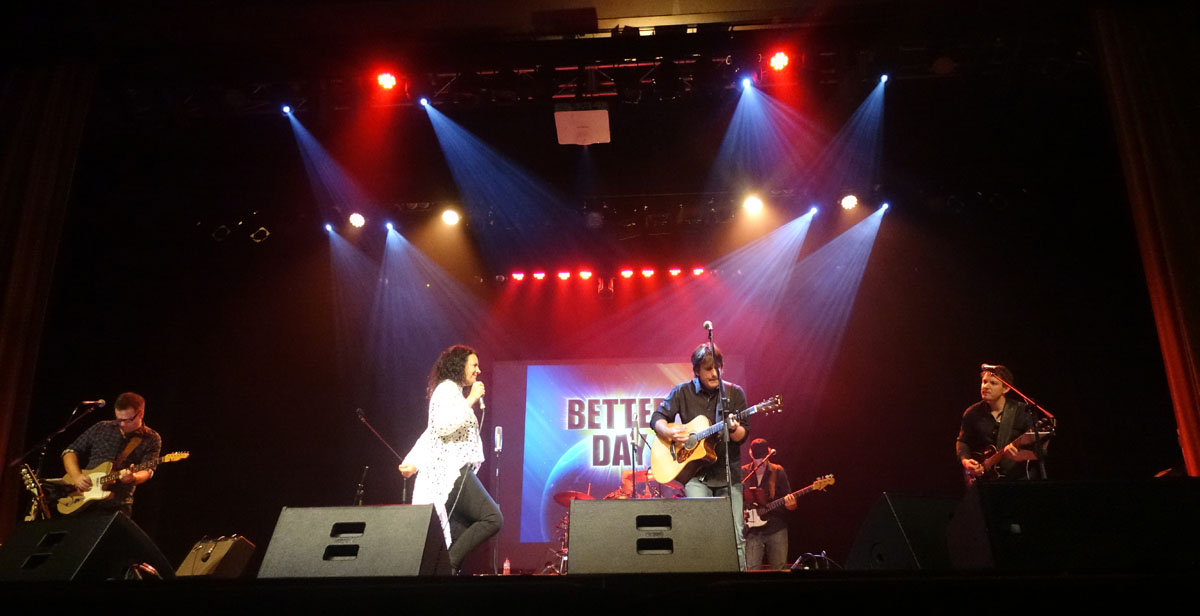 Carter & Carter launched their 8th album Better Day at the 2017 Tamworth Country Music Festival.David and Merelyn first attended the Tamworth Country Music Festival in 1997 to 'check out' what country music was all about."We had won a few songwriting awards through the Australian Songwriting Association, one which included a video clip and recording that was used by the Victorian Racing Committee to promote the beauty of the horse and the Melbourne Cup. This led to a lot of people in the industry hearing our music and encouraging us that we were writing country songs. Our experience of live country music was pretty limited, so we headed to Tamworth to see what everyone was talking about. We loved it, the music, the stories, the ethos, the atmosphere, and decided right there and then that we wanted to head towards a career in country music. In 2000 we released our first album 'Dance Away the Night', achieved some national number #1 radio hits and the rest, as they say, is history. Are we glad we took the advice to head to the festival – Yes We Are!" says Merelyn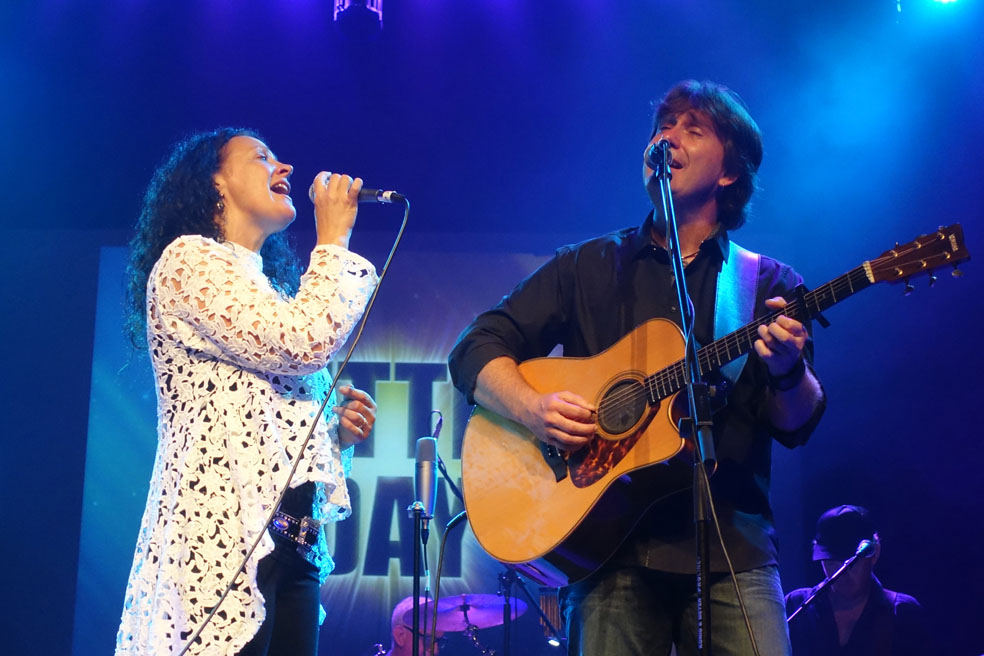 "This year we really wanted to launch our new album at the Festival, and through a very hectic touring schedule last year, we wrote and recorded Better Day, finishing just before Christmas and collecting the manufactured albums pretty much on our way to the Festival. We wanted to launch at the Capitol Theatre, where we have played over 20 shows since it opened in 2011. We love that theatre and we love that so many people supported us by coming to the show and buying our new album." said David

Carter & Carter will release their first single 'Stand Tall' from the Better Day Album in March with a supporting video clip.
Merelyn relates "This album project has a definite concept of bringing people together through music. We titled it Better Day, because even though there is so much hard stuff going on in the world and in our individual lives, together we can make a difference. From our small space in the world, we can love better, be kinder, give more and encourage each other to experience life in its fullness and support each other through the good and the hard times. We don't have to be alone."'
David says "It's fantastic that so many more artists are writing songs tackling issues. We have a real opportunity to impact for change."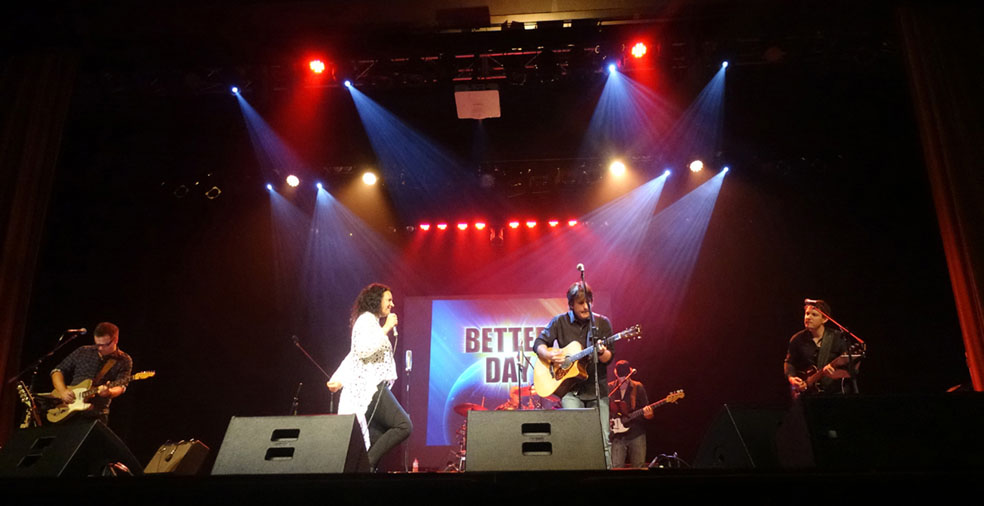 Carter & Carter do a lot of work in small communities in Australia and overseas, bringing people together through music. It's an ethos that inspired this album and what continues to drive their career.

Merelyn also released at the festival, her first Children's Picture Book called 'To The Moon and Back – Grandma's Rocket Ship Adventure', which celebrates significant adult/child relationships, creativity and imagination.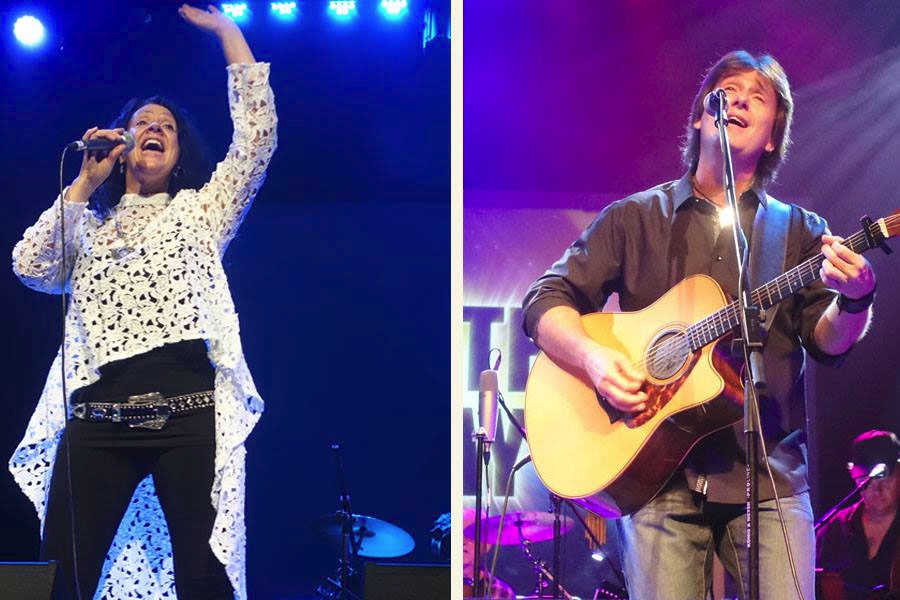 Carter & Carter's new album 'Better Day' has all that the features we have come to expect from Carter & Carter - great songwriting, a distinctive sound, catchy melodies, incredible playing and songs that connect.
But this new album has an extra element as well.
The whole album contains music designed to bring people together to celebrate life, share stories, build friendships and community. It's about sharing the good times and the hard times and knowing that you're never alone.
David and Merelyn have always had the heart of people in mind when writing and sharing their music, and it became even truer after their experiences through the Black Saturday fires in Victoria when they shared the devastation of their home town and surrounds with their local community. Music took on a different meaning for them.

"During the years that followed the rebuilding of our town and community, one thing above all became really obvious to us – people need people. We realised that music, more than ever, was such a part of the re-bridging and rebuilding of people's lives and much healing came about through the sharing of stories through music. This reaffirmed to us that what we have to say through our music not only shares the stories of our generation, but has an actual, immediate effect of healing on people's lives. This excited us and we redirected our musical journey to include more and more community building events, group building events and all manner of opportunities to share in a meaningful way in the lives of so many people of various walks of life. We love it. The Better Day album project has come out of that. We want to keep being part of the positive changes in the world – through our music, from our corner of the world. 'Be the change in the world you want to see' – this is what motivates us." Merelyn & David
Listen Here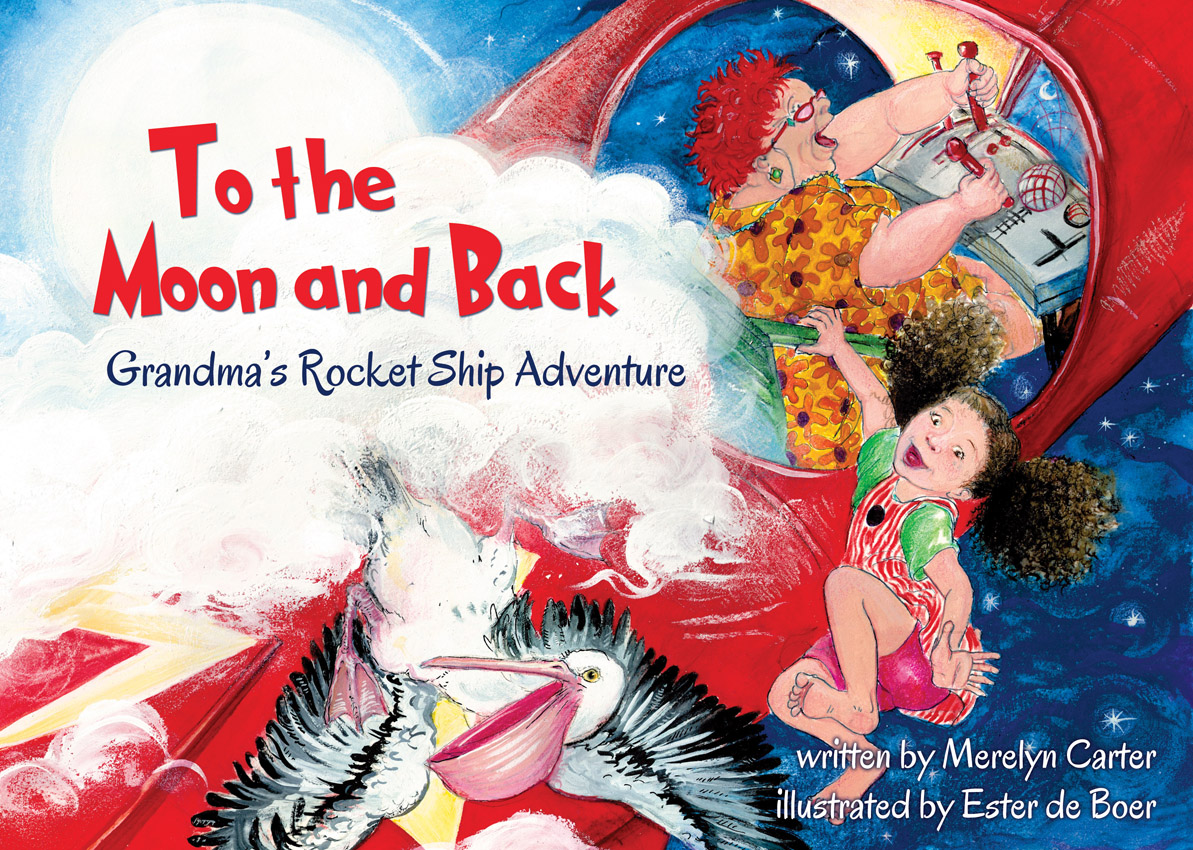 26 PAGE, HARD COVER, FULL COLOUR, ILLUSTRATED CHILDREN'S BOOK
A gloriously illustrated children's book celebrating the relationship between a grandparent and child that explores imaginative story telling and celebrates the extended family relationship. Be transported on an adventure to the moon on Grandma's Rocket Ship. It's a wild ride. Collect rainbow moon dust and search for the elusive man on the moon. Beautifully illustrated by award winning Ester de Boer, this book will be a favourite on any child's book shelf.
$30 INC GST AND POSTAGE
TO PURCHASE YOUR SIGNED COPY
CALL 0458 001 961



Find Out More
Back To The Top
BIOGRAPHY

'CARTER & CARTER have so many runs on the board during the past 10 years that there should be no argument about describing them as Australian Independent country music artists of the decade." - Country Music Capital News.
Dominating the Independent country music scene in Australia for over 15 years now Carter & Carter (Merelyn & David) have amassed more awards and more chart success than any independent artist in history.
Their achievements to date include:
A Golden Guitar

Nine National #1Hits on Country Music Radio plus another twelve National Top 10 Hits

An APRA Award for Most Performed Country Work ( won against Troy Cassar-Daley, Sara Storer, Paul Kelly & Lee Kernaghan)

CMAA Industry Achiever Award for Independent Entertainer of the Year for three consecutive years

11 Australian Independent Country Music Awards - the most of any artist to date

Multiple TSA Songwriting, ACMLA People's Choice and Victorian Country Music Awards.

Carter & Carter have released seven albums, one DVD and three books so far in their fifteen year career. Their most recent album 'Wonderful World' was released to a full house at the Capitol Theatre in Tamworth at the Tamworth Festival.

Merelyn and David have been married to each other for 18 years and live with 58 animals on their beautiful mountain farm in Kinglake, Victoria. They have two children and 3 grandchildren, and faith and family are their highest priorities. They have enjoyed travelling all around Australia and abroad meeting people who have influenced their lives and stories.

'Each song we create is a snapshot of an aspect of our lives, a glimpse into our hearts and souls. Through our music we choose to share these snapshots with the world. Whether it be one, or one billion people, the challenge is the same – can we connect?" Merelyn and David

And there has been some lows - in 2000 just before the launch of their debut album, they were involved in a major car accident and walked away. David suffered a tumour on his spine in 2007 which was removed successfully, and in 2009 they were smack bang in the middle of the Black Saturday fires and were heavily involved in the rehabilitation and rebuilding of the fire affected communities, both on a personal and professional level in the years following.

Through all of this they have toured with their music for over 20 years, separately, then together. Their music is positive, uplifting, inspiring. It moves people to connect knowing that the life Carter & Carter write about is real – it is their life, it is our life. It moves us through our own journey – it is REAL.

With songs from the heart and borne of their amazing life experiences Carter & Carter continue to make music that makes a difference.
Back To The Top
AWARDS

Carter & Carter Awards
DATE
AWARDS
Oct 2015

Finalists in the Southern Stars Aust. Independent Country Music Awards
Australian Independent Group/Duo of the Year
(What A Wonderful World)
Oct 2013

Winners in the Southern Stars Aust. Independent Country Music Awards
Australian Independent Group/Duo of the Year
(To The Moon And Back)
Feb 2012

2 Victorian & National Country Music Awards - Duet of the Year
(Keeps Getting Better)

Jan 2012

Golden Guitar Finalist in Group/Duo (Dance In The Rain)
Feb 2010

Victorian Country Music Award - Group /Duo of the Year (Surviving Black Saturday)

Jan 2010

Double Golden Guitar Finalist in Group/Duo and Heritage Song of The Year
(Surviving Black Saturday)
Feb 2008

Victorian & National Country Music Award
- Victorian Female Vocalist of the Year
- National Female Vocalist of the Year
(Merelyn Carter with My Little Girl)

Jan 2008
TSA Song Salute Award
- Gospel Song of the Year (When God Takes a Photograph)
- Contemporary Song of the Year (The Best Things in Life Are Free)

Oct 2007
11th Southern Stars Aust. Independent Country Music Awards
2007 Independent Artist of the Year 2007 Album Of The Year (Leap Before you Look) 2007 Group/Duo Of The Year (Run Away) TIARA – Country Duo of the Year

Jan 2007
TIARA – Country Duo of the Year
Peoples Choice Career Recognition Award

Feb 2006
Victorian & National CM Awards
Best Group/Duo - National & Best Group/Duo - Victorian

Jan 2006
Hands of Fame Inductees - Tamworth 2006
TSA Song Salute Award - Gospel Song of the Year (God Didn't Make Mistakes)
ACMLA Peoples Choice Award - Best Country Song (God Didn't Make Mistakes)
Sept 2004
CMAA Achiever Award Independent Entertainer of the Year (3 years running)

May 2004
APRA Award – for Most Played Country Song (Lead me Home)

Feb 2004
Victorian Country Music Awards -
Victorian Album of the Year (Every Minute)
Victorian Entertainers of the Year ( 3 years in a row)

Jan 2004
Golden Guitar Finalist Collaboration of the Year (Busy Man)
2004 ACMLA People's Choice Award for Best Country Song (Lead Me Home)

Nov 2003
2003 Musicoz Award - Gospel Winner (Lead Me Home)
Australian Gospel Songwriting Award (Lead Me Home)

Oct 2003
Telstra Country Wide Southern Stars - 7th Aust. Independent CM Awards
2003 APRA/AMCOS Independent CM Single of the Year (Lead Me Home)
2003 Australian Independent Album of the Year (Every Minute)
2003 Independent Artists of the Year (3 years running)
Sept 2003
2003 CMAA Achiever Awards
2003 Independent Entertainers of the Year (two years running)

Feb 2003

Victorian Country Music Awards -
Victorian Entertainers of the Year (2nd consecutive year)
Victorian Female Vocalist of the Year

Jan 2003
Golden Guitar winners for Best Vocal Group or Duo (Candlelight and Kisses)
TSA Songwriters Salute Song of the Year (Candlelight and Kisses)
TSA Songwriters Salute Contemporary Country Song of the Year
(Candlelight and Kisses)

Oct 2002

Australian Independent Country Music Awards
APRA/AMCOS Independent Country Music Single of the Year (Easy Making Love)
Independent Artist of the Year (2nd consecutive year)

July 2002

CMAA Achiever Award winners for Independent Entertainers of the Year

Feb 2002

Victorian Country Music Awards
Victorian Entertainers of the Year
5EFM Australian Country Showcase
Album of the Year (Dance Away the Night)
Song of the Year (A Little Place Called Love)

Jan 2002
Golden Guitars Top 5 Finalist Nominations for Vocal Group/Duo & New Talent
(Easy Making Love)
ACMLA People's Choice Awards –
Best Australian Country Song (A Little Place Called Love)
Best Country Album (Dance Away the Night)
TIARA Award Group/Duo

Oct 2001
Independent Artists of the Year
Album of the Year (Dance Away The Night)

Feb 2001
Victorian Album of the Year (Dance Away the Night)
Victorian Female Vocalist of the Year

Jan 2001
Golden Guitars Judges Top 10 in Group/Duo
TSA Song of the Year (A Little Place Called Love)
TSA Gospel Song of the Year (A Little Place Called Love)

Back To The Top
RADIO HITS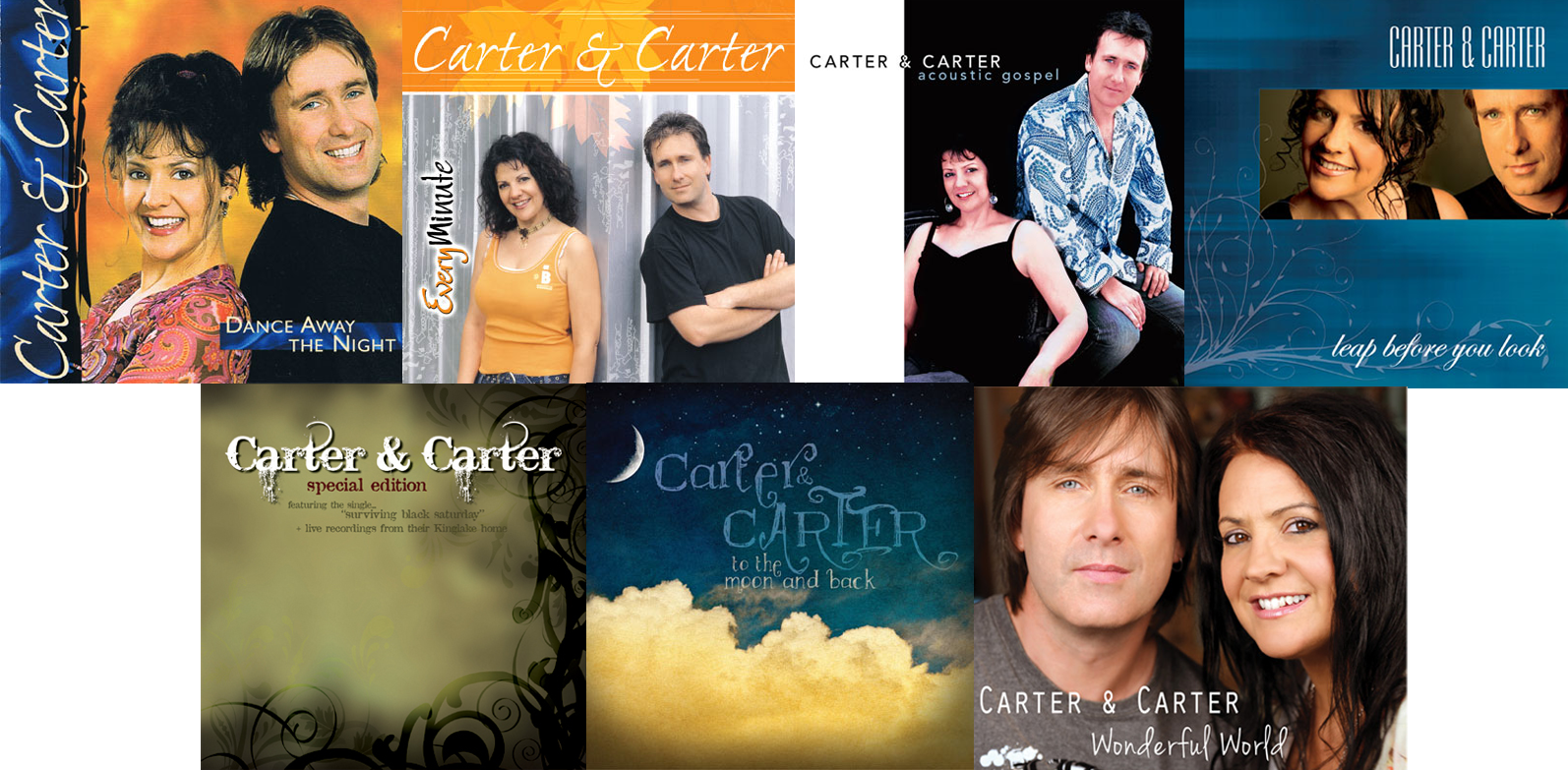 Carter & Carter Radio Singles

| SINGLE TITLE | ALBUM TITLE | CHART POSITION | DATE OF PEAK |
| --- | --- | --- | --- |
| You Were There | Dance Away The Night | #6 - 1 week | Sept 2000 |
| Dance Away The Night | Dance Away The Night | #1 - 2 weeks | Mar 2001 |
| A Little Place Called Love | Dance Away The Night | #1 - 1 week | Aug 2001 |
| Easy Making Love | Every Minute | #1 - 3weeks | Jan 2002 |
| Candlelight And Kisses | Every Minute | #2 - 2weeks | Aug 2002 |
| Lead Me Home | Every Minute | #1 - 4 weeks | Mar 2003 |
| Busy Man | Every Minute | #1 -2weeks | Oct 2003 |
| Dancing Shoes | Every Minute | #1 - 2weeks | Feb 2004 |
| One Of Those Days | Every Minute | #2 - 2weeks | Aug 2004 |
| Play That Song | Leap Before You Look | #3 - 3weeks | Jan 2005 |
| God Didn't Make Mistakes | Acoustic Gospel | #6 - 2weeks | Sept 2005 |
| Ride | Leap Before You Look | #3 - 3weeks | Sept 2006 |
| Run Away | Leap Before You Look | #1 - 2weeks | May 2007 |
| The Best Things In Life Are Free | Leap Before You Look | #1 - 4weeks | Nov 2007 |
| Slow Dancing At Midnight | Leap Before You Look | #2 - 2weeks | July 2008 |
| Open Road | Leap Before You Look | #6 -2weeks | Dec 2008 |
| Surviving Black Saturday | Special Edition | #7 - 2weeks | Nov 2009 |
| Dance In The Rain | To The Moon And Back | #1 - 1 week | Dec 2011 |
| A Good Life | To The Moon And Back | #3 - 1 week | June 2012 |
| To The Moon And Back | To The Moon And Back | #13 - 2 weeks | Feb 2013 |
| Little Patch Of Heaven | To The Moon And Back | #2 - 6 weeks | June 2014 |
| What A Wonderful World | Wonderful World | #3 - 2weeks | Nov 2014 |
Back To The Top
PROMOTIONAL PHOTOS & BIO DOWNLOAD

CARTER & CARTER ELECTRONIC PRESS KIT
Back To The Top
---